Navy Vietnam Veteran Richard Cox
What makes Richard Cox a true American hero?  After reading about his twenty years of military experience, his determination to make a difference regarding veteran challenges, and watching the following video, you will agree.  "Richard is a strong, silent man who is very dedicated to veterans, and their causes."  This comment came from Judy Atencio.  Ms. Atencio, is an advocate for veterans and also an associate member of VVA Chapter 1071.  She has witnessed his tenacity for veterans time and time again, while being part of various veteran issues with VVA Chapter 1071.  For example, recently, important headway has been made with, The Toxic Exposure Research Act of 2015, currently in Congress.  Without active veteran commitment with veterans like Richard Cox, there is no face to the cause.  His leadership, has helped bring positive results.
Vietnam Veteran Richard Cox, WWII Veteran William Taylor & Iraq Veteran Luis Carlos Montalvan
As a seasoned veteran, Richard Cox brought a wealth of experience to Vietnam Veterans of America, serving first as Vice-President, and four years as President of Chapter 1071.  He traveled countless times to Washington DC to be part of the discovery process regarding Agent Orange.  In doing so, he helped our exposed veterans receive the benefits they deserved.  He has also been involved with bringing attention to the hazards of burn pits, first noticed with our younger veterans from Iraq.
Here is a recapped account of Richard's military history in his own words:
"I am a third generation native of Colorado, born and raised in Denver. I joined the navy four months after my 17th birthday in April 1958, and went through basic training in San Diego, CA.
I was assigned to the U.S.S. Rainer AE-5, an ammunition ship home ported in Port Chicago, CA. I was on what they called a minority cruise and was discharged just before my 21st birthday on the 8th of January 1962.
I reported to my Reserve Unit, and re-enlisted on the 22nd of August in 1962. At that time I was sent toTreasure Island, CA and was assigned to the U.S.S. Rehoboth AGS-50, a geological survey ship. On March 1st, I was transferred to the U.S.S. Manatee AO-58, a Fleet Oilier, home ported in Long Beach, CA.
May 1964: Transferred to the U.S.S. Impervious MSO-449, an Ocean Going Minesweeper in Long Beach, CA.
July 1965:  Transferred to the U.S.S. Woodpecker MSC- 209, a Coastal Minesweeper, home ported in Sasebo, Japan.
April 6, 1967: Transferred to the Amphibious Base at Coronado, CA., for Swift Boat Training. On the 21st of June, I reported to Coastal Division 11 in Vietnam.
June 1968: Assigned to Instructor School at San Diego, CA for training, then assigned to Mare Island, CA as a Riverine Warfare Instructor.
August 1971: Transferred to the U.S.S. Samuel Gompers AD-37, a Destroyer Tender, home ported in San Diego, CA. On the 21st of Dec 1973, I was assigned to Race Relations Training at Patrick Air Force Base in FL, then to the Navy Race Relations School at Memphis, TN.
May 1974: Assigned to the U.S.S. Dixie AD-14, a Destroyer Tender in San Diego, CA, as a Race Relations Program Specialist. In July of 1975,  transferred to the Navy Recruiting Orientation Training at San Diego, CA.  In September 1975, I reported to the Naval Recruiting District in Detroit, MI.
On the 3rd of April 1978, I retired from the Navy after 20 years, and was transferred to the Fleet Reserves, and returned to my hometown of Denver Colorado."
According to VVA Chapter 1071's website, due to his outstanding  service achievements,  Richard Cox was awarded the following medals and citations:  the Navy Achievement with Combat V, Combat Action, Presidential Unit Citation, Navy Unit Commendation, Good Conduct, National Defense, Antarctica Service, Armed Forces Expeditionary, Vietnam Service, Navy Sea Service Deployment, Recruiting Service, Republic of Vietnam Gallantry Cross, Republic of Vietnam Meritorious Unit, Republic of Vietnam Campaign, Combatant Craft Crewman Insignia and Small Craft Insignia.
Dan Dietz and Richard Cox at the 2015 West Metro Veteran Fair.  (Mark your calendar for this year's fair on September 20, 2016 at Lakewood's Elks Club 1777).
Asking friend and fellow veteran advocate Dan Dietz for a quote regarding Richard, Dan was quick and to the point.  "He was a great president of our organization, a true and caring leader.  He is and continues to be an inspiration, a wonderful man, and I love him dearly."
Vietnam Veteran Richard Cox, like most Vietnam Vets, did not come home to a hero's welcome.  He strongly believes in the Vietnam Veterans of America's motto.   "Never again will one generation of veterans abandon another."
We thank you, Richard Cox, for shining a light on veteran issues,  and THANK YOU, SIR, for your service!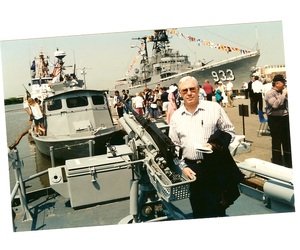 The City of Arvada's Media team, Wendy Brockman, Rick Assumus & Damon Parrish, created the following video of Richard Cox in 2012.  Length 3:36.
On August 7, 2016, Richard passed away at home with his loving family.  Mary Ann Whitehead made Memorial Keepsake Dog Tags for his family and friends from the Vietnam Veterans of America Chapter 1071.  A true testimony of how many people this hero touched.
***As a footnote, Veteran Stan Paprocki, the current VVA Chapter 1071's President, is suggesting his fellow veterans visit the VA to be tested for hepatitis.  "Unfortunately, some veterans may have been exposed, and are unaware."
www.starspangledboomerang.com